Who's Who at Based On A True Story…
Me
I'm in my mid 40s. I've been a veterinarian since 1997. I've been blogging here since January 2005 and for a year before that on a free site. I was raised a hard-core evangelical Christian but left the faith after vet school. Now I'm a nothing.
Originally I'm from PA but I moved to Ohio in 1998 when I married The EX. That lasted for 9 years until he decided at the tail end of an adoption process that he couldn't handle having adopted children instead of biological children and took off. It turned out to be the best thing that ever happened to me but it didn't seem that way at the time. I stayed in the area because my job and my friends are here and it doesn't snow here as much as it does in PA. In 2012 we moved again to the northern part of Ohio for The Husband's job.
The SO/ The Husband
That's short for the Significant Other since once I realized that he was going to be a significant enough presence in my life to require blog mention I didn't come up with any better pseudonym. He was excited to learn that he got to change his name when we got married on June 2, 2012 because he never liked The SO. He's a weightlifter, ex-Army, car-loving good boy. I tell him he's a good boy because that's the highest form of praise in my line of work. He has a daughter named Z who used to come here every other weekend.
_______________
The Critters
Jules
Jules is a Senegal Parrot born in 2005 who came to live with us in May 2011. She likes me but isn't too sure about The Husband. He is very scary but he gives grapes and bananas so she has decided he may live.
Paul
Paul was adopted in October 2015 at the age of two. He's a sweet boy but very timid. It took him 2 years to decide to enter the living room. He's a lover though.
Lucy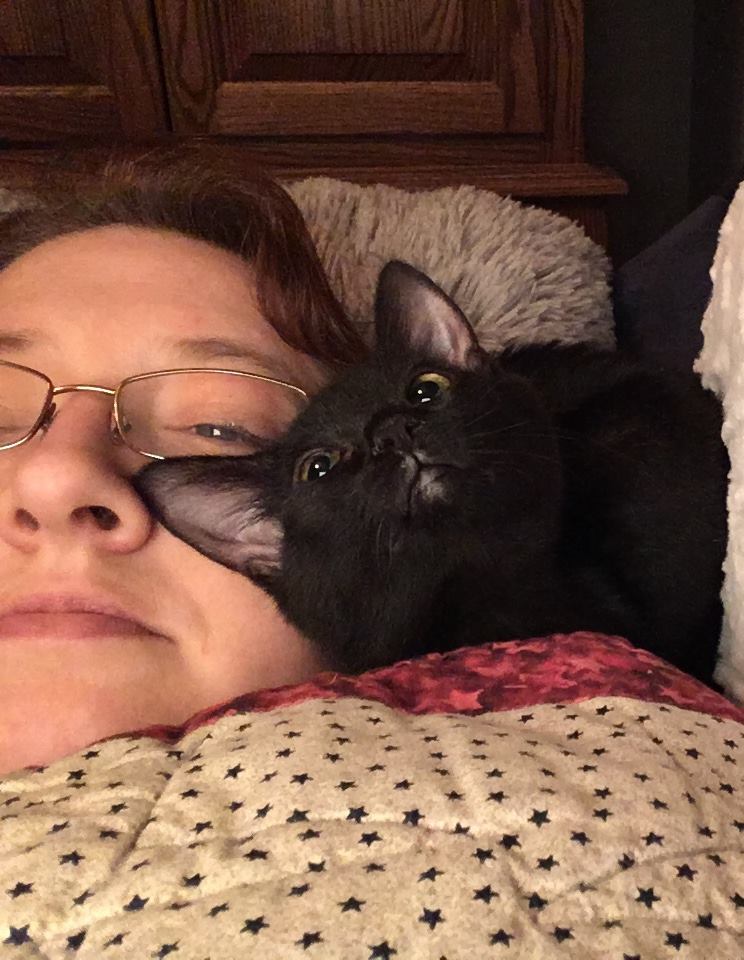 Adopted December 15, 2018 at 4.5 months old. She was part of a litter named for the Beatles. Her brothers were John, Paul, George, and Ringo (Yes, she already had a brother named Paul!) and she was Lucy in the Sky with Diamonds.
Nemo
Nemo was adopted in January 2021 after being surrendered for biting a three year old. I'm sure the kid had it coming because Nemo loves kids (and not just to eat.) However he doesn't approve of cats so this has been a struggle. We think we are his 4th house and he was 3 or 4 years old when we got him. He's the bestest boy ever except when he is being very naughty. He likes going to the dog park every day and trying to eat whatever you are eating instead of his fancy food.
The Former Cast
Spirit
The blog was named for my horse Spirit. He came into my life on November 13, 1984 when I was almost 12 and he was 9. He died at the age of 33 on August 6, 2008. He influenced almost every major decision in my life from where to go to college (stay near home to keep showing him) to where to build a house (where he could live with me) to can I go out to dinner (how mad is Spirit going to be if his dinner is late? Answer – very!). He was a grumpy old man even when he was young and he is sorely missed.
Spirit on the left (Don't mention the purple. It embarrassed him.) Prize on the right.
Prize
Prize is a Morgan mare who came to live with us in November 2000 as a yearling. She's a Princess and she would be happy if no one forgot that. She's a star at Sport Horse in Hand classes and has the national level all breed awards to prove it. She'd like not to be ridden, thank you very much, but has done some dressage and even some cattle work. She's been on a layoff since an accident in May 2006 that broke my pelvis (which healed) and my riding confidence (which hasn't).
She went to live at a new home on December 26, 2011 so she could go back to work. Since then she has become a trail horse diva who goes through mud like a champion on her almost daily rides. (Seriously, she'd have killed me if I tried that with her. She and I butted heads a lot.) I always said she'd be a good horse when she was around 16. It was just a long and painful process getting her there.
Died July 3, 2018
Powder
Powder came here after being abandoned as a kitten in 2002. She's a mighty rodent killer but is also very sweet and loving to humans. She's a cuddler and used to defend Snowball from the evil plans of Riley. She despises Freckles and hid from her for a year and half because she was mad. Then she decided that the dog wasn't leaving so it was time to come back into the world and reclaim her rightful place as Queen.
Died October 7, 2018
Snowball
I was supposed to euthanize Snowball at the age of 9 in April 2001 but she jumped down in my arms and started licking my face. She moved in with me instead. She's going senile and is tormented by the cats who are larger than her. But she still perks up for caramel coated rice cakes, a snack she learned to love from the ex. She is pathologically devoted to me for some reason and barks herself hoarse if I go out of town.
Died June 28, 2009 at the age of 17.
Ozzie
Ozzie is a lovebird who came to live with me at the age of 8 weeks in 1995. He's been through 6 moves with me in three different states. His favorite things are screeching, popcorn, and showers. After Spirit's death he became the most senior animal in residence and is reveling in his new found authority. He'd like to beat up a cat but I tell him it wouldn't be a fair fight. He doesn't realize that I mean that he'd lose because he is the size of their heads. He proves to me that birds descended from Velociraptors.
Died 12/11/10 at the age of 15
Riley
Riley was born in 2006. The SO says he's a thug but he's really a mama's boy. He's a cat who will be in trouble all day and then just when you are about to have to beat him, he'll come and cuddle and love on you so he lives to torment another day. He used to hate dogs until Freckles came and now they are bestest buddies. Died Sept. 2015.
Freckles
Freckles was adopted on December 1, 2009 (age 5) through English Springer Spaniel Rescue but she's not a springer. At least, she isn't full springer. She's either a total couch potato or a blur of energy. There is no in between. We call her the narcoleptic lap dog because if she sits on your lap she immediately falls asleep. She loves car rides and the dog park – especially car rides to the dog park.
Died March 27, 2020